Acid staining is a process to economically finish raw concrete floors. Because of the interesting patterns and mottled appearance it is popular in restaurants and large stores.  A durable clear coat is applied over the decorative finish to protect it from wear patterns and staining.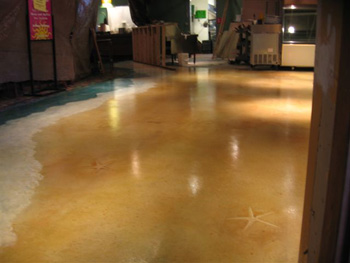 This finish is only suitable for new, raw concrete which has never been acid cleaned or previously stained.  It is an alternative for tile on a patio, porch or garage floor.
Artists work with colored acid stain to achieve dramatic effects such as faux landscapes and beach scenes.
John Grey Painting can do all the necessary preliminary preparations and then provide you with an appealing artistic "WOW" floor finish.