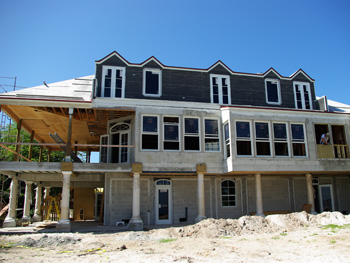 Professionally managed and performed, our services  provide a total package with a quality experience throughout the job process. In response to the needs and desires of our customers, we have expanded our service from interior and exterior home painting to include literally 'painting anything that doesn't get up and move'.
Also, as a result of our intense surface preparation standard (70% of the average paint project is prep work), we have evolved from sanding and caulking to replacing, rebuilding and renovating.
In an effort to achieve a complete, quality controlled product we now provide full interior and exterior carpentry, sheetrock, and stucco work, including new work, repair work, and renovations (including total bath and kitchen makeovers).
Through continuing education classes and seminars we strive to expand our knowledge and keep abreast of the most up to date product innovations, application techniques and maintenance procedures.
To assure a risk free, quality experience both for you and for us:
We maintain high limit coverage for liability, worker compensation, personal injury and commercial automotive insurances.
We report all wages and income and pay all taxes, permit and license fees.
We adhere to all OSHA standards.
We have only highly motivated and responsible employees.
We maintain a zero tolerance drug free work place.
We regularly inspect and maintain our equipment.
We require the use of all appropriate safety equipment.
We have procedures in place to protect the environment.
We have procedures in place to protect the furnishings and possessions of our customers.
We have the ultimate **Risk Free Guarantee**
Learn more about our painting services and specialty coatings by clicking on these links.