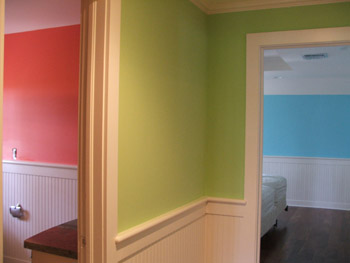 The artisans and craftsmen at John Grey Painting work with a design staff to create beautiful custom interiors that go far beyond traditional wall treatments. We work with color, light, and texture to bring subtle and uncomplicated balance into your living space. Our service incorporates interior design and color consultation to create a collaborative work between you and the craftsmen with whom you share your vision.
John Grey Painting not only applies finishes to your walls, but we can also help you create those walls and decorate the space within them. We can guide you from the renovation and decoration of a single bath or kitchen through the color coordination and furnishing of your entire home.
Expand the choices for your interior walls from paint, fabric, and faux glazes to a variety of beautifully color coordinated olde world plasters, modern decorative finishes, numerous forms of wall art, and murals.